Next weekend in Los Angeles: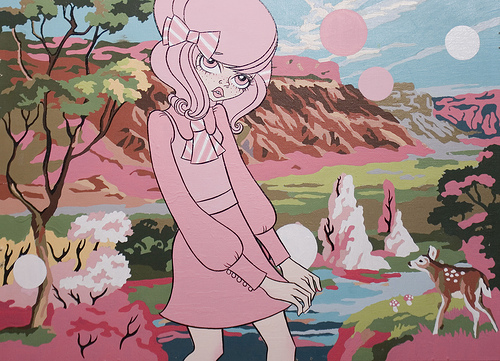 CHARITY BY NUMBERS
Corey Helford Gallery announces an exceptional lineup of artists for CHARITY BY NUMBERS, an art auction on Ebay to benefit The Alliance For Children's Rights. The exhibition features today's most collectible and sought after artists of the Underground Fine Art Movement who will transform classic hand-painted, vintage paint-by-numbers into modern masterpieces.
Corey Helford Gallery
8522 Washington Blvd
Culver City, CA
Saturday, February 10
Private viewing from 6 to 9pm
Public viewing from 10pm to midnight
Exhibition runs through February 17th
Mark Ryden & Marion Peck, Clayton Brothers, Camille Rose Garcia, Todd & Kathy Schorr, Gary Baseman, Tim Biskup, Eric White, Ron English, Shepard Fairey, Friends With You, James Marshall (Dalek), Josh Agle (Shag), Michael Hussar, Gary Panter, Kent Williams, Miss Van, Richard Colman, Alex Gross, Elizabeth McGrath, Jeff Soto, Jim Houser, David Horvath & Sun-Min Kim, Souther Salazar, Saelee Oh, Caroline Hwang, Andrew Brandou, Korin Faught, Gary Taxali, Joe Ledbetter, Owen Smith, Aaron Smith, Natalia Fabia, Kaz, Bwana Spoons, Dave Kinsey, Mark Todd & Esther Pearl Watson, Erik Foss, Boris Hoppek, Nathan Jurevicius, Fred Stonehouse, Tara McPherson, Calef Brown, Paul Frank, Rodney Alan Greenblat, Martha Rich, Jennifer Poon, Heiko Mueller, James Jean, Jordin Isip, The London Police, Lola, Nathan Spoor, Amy Crehore, Isabel Samaras, Anthony Ausgang, Jonathon Rosen, Christian Northeast, Ana Bagayan, Mari Inukai, Greg Simkins (Craola), Donny Miller, Lauren Bergman, Tom Neely, Blaine Fontana, Audrey Kawasaki, Tokidoki, The Pizz, Jesse LeDoux, Kukula, Paul Chatem, Glenn Barr, Alex Pardee, Luke Chueh, Buff Monster, Sam Flores, Kii Arens, David Sandlin, Van Arno, Attaboy, Dave Burke, Sean Christopher, Greg Clarke, Frieda Gossett Clayton, Dave Cooper, Sarah Folkman, Fawn Gehweiler, Gris Grimly, David Hochbaum, Stella Im Hultberg, Sylvia Ji, Eric Joyner, Kozyndan, Tiffany Liu, Jason Maloney, Tim McCormick, Patrick McDonnell, Carrie McNinch, Chantal Menard, Brandi Milne, James Naccarato, Joe O'Neill, Kathie Olivas, Kevin Peterson, Joshua Petker, Pooch, Lesley Reppeteaux, Goldmine Shithouse, Savanna Snow, Amy Sol, Save Vaughn, David Von Der Linn
CHARITY BY NUMBERS opens on Saturday, February 10, 2007 with a gala event at Corey Helford Gallery, followed by a week long on-line auction. 100% of the proceeds will go to The Alliance For Children's Rights. The private event is from 6 to 9pm, followed by a 10pm to midnight preview that will be open to the public. All members of the press are invited and should email to: rsvp@coreyhelfordgallery.com to attend.
The Alliance For Children's Rights is the leading non-profit agency in Los Angeles County devoted solely to providing free legal services to children living in poverty, both in and out of the foster care system. The Alliance For Children's Rights' mission is to protect the rights and futures of abused and impoverished children throughout Los Angeles County, in hopes of creating a world in which all children are able to have a safe and permanent family, access to quality health care, a quality education, and all of the support and services they so rightfully deserve.
PS: More soon, I promise!
PPS: Happy belated 07!
xoxoxo
Fawn